Representation for extending dates for furnishing belated/Revised Returns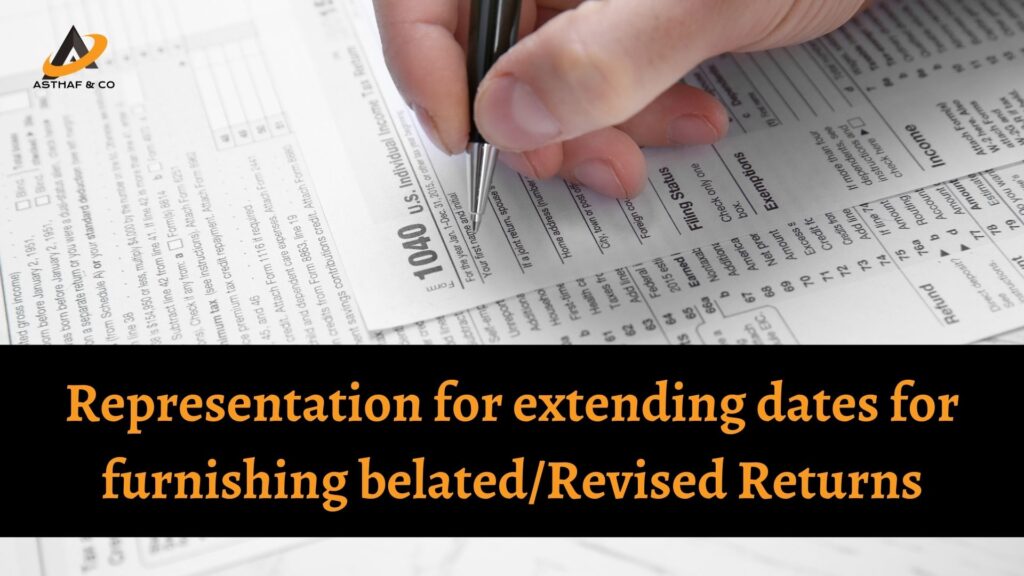 For filing a belated income tax return u/s 139(4) for the fiscal year 2019-20 (which was originally 31st March 2021 but was extended to 31st May 2021)
For the purpose of filing a Revised Return of Income Tax u/s 139(5) for the fiscal year 2019-20 (which was originally 31st March 2021 but was extended to 31st May 2021)
2.However, owing to the Corona pandemic, many taxpayers were unable to file their ITR for FY 2019-20 (First Year 2020-21) by May 31, 2021, despite their best efforts. The provision of such ITRs will aid in increased revenue collection, and taxpayers will be able to maintain regularity by ensuring that their returns are filed on a consistent basis.
3. The CBDT has granted Corona patients the benefit of exemption for amounts received beginning in FY 2019-20 and ending on June 25, 2021, but the deadline for filing ITR/ Revised ITR has passed, and it is necessary to allow them to file their Return/ Revised ITR for AY 2020-21 so that they can benefit from the exemption.
The GST compensation amount for FY22 at the Centre should be greater than the anticipated Rs 1.58 lakh crore: Opp-ruled states
4. Facility for filing ITR in response to Notice under Sec. 148: Please provide a facility on the new Income Tax Portal for filing Belated/ Revised ITRs as well as ITR in response to Notice under Sec. 148 for assessment years 2020-21 and earlier, as per amended provisions regarding the reopening of assessments with effect from April 1, 2021.