ITR – Income Tax Return & IT Return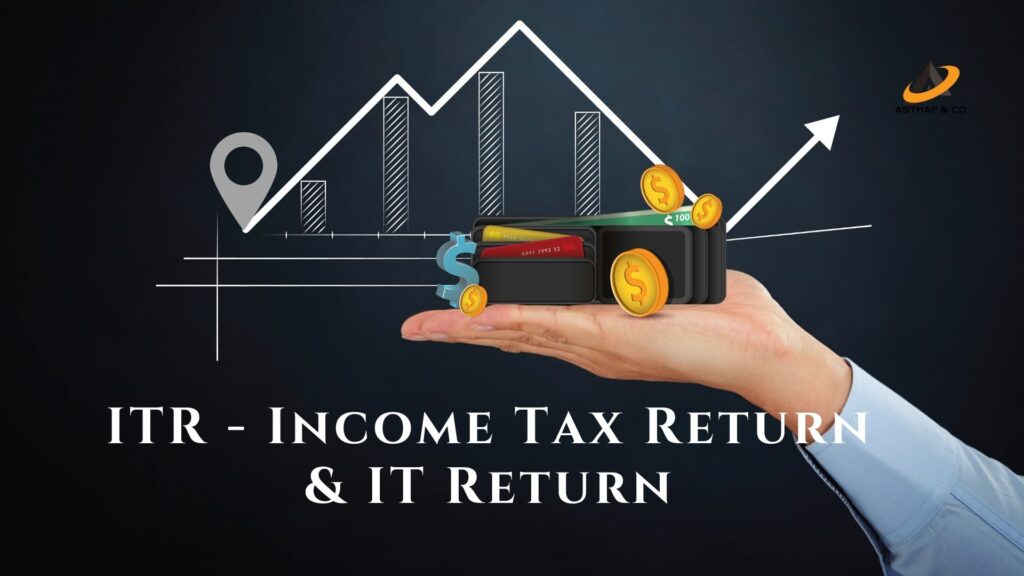 ITR (Income Tax Returns) are a type of tax return that is used to declare net tax liability, claim tax deductions, and report gross taxable income. Individuals who receive a certain amount of money are required to file IT Returns. Self-employed or salaried individuals, firms or businesses, Hindu Undivided Families (HUFs), and self-employed or salaried individuals must all file ITRs with the IRS.
What is the Importance of ITR Filing?
In India, it is currently mandatory to file income tax returns if the following conditions apply (FY 2020-21):
Individuals who fall into the appropriate tax brackets.
If it's a corporation or business, it doesn't matter if it makes a profit or loses in a given fiscal year.
If you need to claim a tax refund,
If a loss from one source of income must be carried forward,
If you own an asset or have a financial interest in an entity outside of India, you are a citizen of India.
Being a citizen of India entitles you to sign on a foreign account as a signing authority.
If a political party, a research association, a news agency, an educational or medical institution, a trade union, a not-for-profit university or educational institution, a hospital, an infrastructure debt fund, or any authority, body, or trust receives revenue from property held under a trust for charitable or religious purposes,
If you're looking for a loan or a visa,
If an NRI earns any or all of his or her income in India, that income is taxable in India, and income tax returns are required.

Following the implementation of e-filing of income tax returns, the following situations would necessitate e-filing of income tax returns:
In the event that a refund is requested,
If the gross total annual income is more than Rs. 5,00,000,
If a refund of income tax is required,
E-filing of ITR-3, 4,5,6,7 is required.
What Are the Consequences of Late ITR Filing?
If the returns are not filed by the due date, the taxpayer faces steep fines. If the returns are not filed, the individual may face other inconveniences and consequences, in addition to the fines. Individuals will face fines ranging from Rs.1,000 to Rs.10,000 depending on when their returns are filed after the due date.
The following are the fines for filing an ITR late for the fiscal year 2020-21:
In addition to fines, if taxpayers are eligible for a refund, there will be a delay if the ITR is filed late. In the event that the returns are not filed on time, taxpayers will be charged a 1% interest rate on the outstanding balance.
What is Income Tax Return Notice?
You may receive a notice from the Income Tax (IT) Department if you do not file your Income Tax Return in an Assessment Year. Individuals who have been identified as non-filers have their financial transactions and activities monitored by the IT Department. You may receive a notice from the IT Department if there is a difference between the amount of tax you have declared in your ITR and the amount of tax you have paid. If the department wants to review any documents related to the ITR you filed, you may receive a notice.
FAQ'S On Income Tax Return
I work for myself as a freelancer. My salary is below the income tax threshold this year, but it was higher in the previous two years when I filed ITRs. Is it necessary for me to file a tax return this year?
If your income is below the threshold, you should not have to file an income tax return. However, if you have previously filed it, it is preferable to file a return declaring low income this year. Because of your previous record of filing ITRs, the Income Tax Department may interpret your non-filing as a delay or non-compliance. It's possible that they'll give you a notice.
Can I avoid filing an income tax return if I have already paid advance taxes and have no dues or refunds?
No, filing your ITR is not optional. The ITR provides the government with a detailed record of how your revenue is distributed.
Is an ITR handy in my day-to-day life?
Yes, filing your taxes is beneficial. If you want to apply for a loan, the ITR may be a required document to send.
How long must we wait for a refund of our income tax?
It could take up to 45 days to obtain your refund after you've filed your tax returns online and completed the e-verification process. The refund processing period may be longer if the verification is done via ITR-V to CPC Bengaluru.
Is it possible to file a tax return after the deadline has passed?
Yes, you can submit your tax return after the deadline has passed. If the ITR is filed after the due date, however, a penalty will be assessed.
What is the procedure for checking the status of an income tax return?
On the official website of the Income Tax Department of India, you can verify the status of your Income Tax Return. Your Permanent Account Number and password can be used to verify the status.