Tax Planning Tips for Salaried Employees
Are you averse to the thought of paying taxes on a substantial portion of your revenue? If so, you're not on your own. Although paying taxes every year, most people feel the pinch. There have been some changes in the income tax rates in the newly imposed tax slab for AY 2020-21. Taxes are, however, essential for the nation's growth and should not be avoided. Therefore, some arrangements to minimize the burden on taxpayers have been made by the government. Exemptions, deductions, and rebates allowed under the Income Tax Act may be taken full advantage of. Tax planning is defined as the financial steps taken to reduce taxes. It includes organizing your affairs to help you save taxes in a certain way.
Using Section 80C:-
The government of India allows some deductions on the sums invested in defined instruments under Section 80C to promote the habit of saving among the people of the country. For tax planning purposes, the most common investment instruments are:
• PPF accounts
• 5-year deposits of tax savings
• Stock mutual funds
• Retirement plans
• Policies for life insurance
Stop tax planning at the last minute:-
At the last minute, planning your taxes leaves no time to research numerous investment opportunities for you. Investing a lump sum amount only to save tax can often become a burden. Via Mutual Funds and SIPs, you can invest small amounts regularly during the year, while not eating into a chunk of your savings at the last moment.
Ask for a rental home Allowance: –
House rental allowance (HRA) is a part of salaries that most employers give out. Ask your employer to do so if you do not have this aspect included in your salary. The HRA can be asserted as an exemption under the Income Tax Act if you reside in a rental property if you are working.
To summarize:-
Efficient tax planning requires investments that are early and periodic. A part of the tax preparation checklist should also be to review your salary slip. There are also several tax saving hints in the investment declaration form issued by your employer, so don't neglect it.
Restructuring salaries: –
In order to minimize the tax burden, several businesses allow the restructuring of a few salary components. If you are in good terms with your HR department, speak to them about having your salary included in those allowances. Instead of lunch vouchers, opt for food coupons, since they are excluded from tax up to 60,000 p.a. Allowances such as medical allowance, travel allowance, education allowance, and telecommunications costs are not included as part of the wage since they are non-taxable.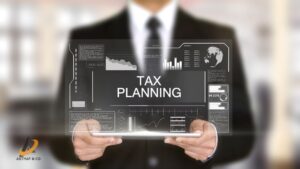 Saving taxes, if not scheduled well in advance, can be a complex operation. Let's take a closer look at your salary slip to grasp the gross tax you are expected to pay per year.
You may have noted the numerous components that consist of your salary slip. In your payslip, the largest clue to saving taxes more effectively lies. The following major components are included:
Income
Allowances
Deducts
Your earnings are displayed as your basic salary. You will collect a dearness allowance, House Rent Allowance (HRA), a conveyance allowance and a Leave Travel Allowance with respect to donations (LTA). Deductions including Income Tax, Technical Tax and Provident Fund can also be included in the section.